InSight Foto, Inc.
is Santa Fe's premier photography and videography studio that provides professional services for weddings, special events, portraits, corporate photography, performing arts, schools, architecture, lifestyles in Santa Fe New Mexico.
With more than 40 years of combined photographic experience, the co-founders of InSight Foto Inc., Babak and Kathy are trained photojournalists whose goal is to use their creative skill and experiences to capture the moment, feeling and essence of what they photograph. They consider and treat each photo shoot as an assignment of the utmost importance, an event to be documented from start to end. Their mission at InSight Foto is to first listen to their clients needs and then provide a exceptional and creative photographic service to fulfill those goals as photographers. Online proofing is provided with all assignemet types, special events and weddings.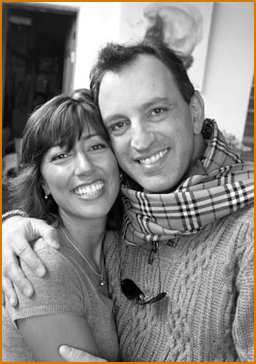 Local Clients Sample list:
Santa Fe Institute (SFI)
Santa Fe Symphony & Chorus
New Mexico School Arts
Santa Fe School for the Arts & Sciences
Health Action New Mexico
Performance Santa Fe
Homewise Inc.
Santa Fe Community College
Santa Fe Chamber Music Festival
Con Alma Foundation
National Dance Institute (NDI)
Governors Mansion Foundation
St Johns College
Wells Fargo Bank
Santa Fe Natural Tobacco Company
La Posada de Santa Fe
Bishops Lodge Ranch & Resort
La Fonda on the Plaza
Houshang's Galleries
Santa Fe University for Art & Design
and many more...
Photographers/Owners:
Babak Dowlatshahi
earned his BA Degree in Photography & Audio Visual Sciences, and a Masters of Science in Business Development and Organization at the London School of Economics (LSE) in London, England. A former contract photographer for the Associated Press in Germany, Babak has showcased several exhibits in England and Germany. He has been shooting professionally for over 25 years and is the co-founder and owner of InSight Foto Inc.
Kathy De La Torre
received her BS Degree in Photojournalism from San Jose State University and was the photo editor and staff photographer for The Santa Fe New Mexican daily newspaper. Kathy has also photographed for USA Today and Sunset Magazine. She has been photographing professionally for the past 12 years and is co-founder and a partner at InSight Foto Inc.


Based in Santa Fe, InSight Foto is New Mexico's premier, award-winning, wedding, special events and corporate photography and videography studio. InSight Foto provides the highest professional photography standards with unique photojournalism and contemporary photography styles and services. As professional photographers we also provide a wide range of products and packages, as well as online proofing and print order access to all weddings and events.
THE PHOTOGRAPHS REPRESENTED IN THIS WEB SITE ARE PROTECTED. © COPYRIGHT INSIGHT FOTO INC. 2018