Hannah Kinkel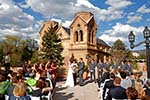 Babak was incredible to work with. He was professional and yet personable. We met with him before the wedding day and he walked us through what to expect. We were never left wondering who should be where at what time. He did an incredible job during the ceremony and reception by seeming to be everywhere at once but never being intrusive into what was going on at the moment (e.g. he never blocked my spouse and I from the view of our guests during the ceremony). He was true to his word in terms of the length of time he would be there and he took photos of everything we asked him to. Most importantly, the photos turned out incredibly! He did a fabulous job capturing the true joy and love of the day. He was everything we wanted and more!.
Jessica Berry
Babak and his team were both amazingly professional and amazingly fun! We were ecstatic about the whole experience of working with InSightFoto-- from the initial planning meetings to the final website-- and we would definitely recommend Babak and his team for any event.
Jill Downey
The best wedding photographs I have ever seen - we could not be happier with the quality of the pictures and the professionalism of the photographer. He was a real joy to work with.
JoDee Neil
InSight Foto came very highly recommended by every vendor in Santa Fe. Before we made our final selections, we asked each of them who they recommended for all of the other vendors. We ended up choosing an all-star cast. Our wedding was PERFECT. InSight Foto was a major part of the perfection, to list a few reasons: 1. They are cool. Just cool. You will enjoy spending time with them as people, not just as vendors. We have extended an invitation to both Babak and Kathy to visit with us any time, since we live in Southeast Asia. 2. They invest time to do good work: Like I said, we live in SE Asia, and they were extremely gracious in their email communication, since it is difficult to arrange phone calls with a 14h time difference. 3. THE PHOTOS!!! I watch our wedding photos on slideshow repeat because they are THAT GOOD. I am extremely finicky about photos of myself, and I only had to hide a few from the master album--mainly because my hair was messed up because of the wind or something else beyond their control. 4. Tact: Babak and Kathy are extremely tactful. Babak wrangled me around on our wedding day and I didn't even notice it. He makes it all seem natural and easy. He also takes care of details like making sure my train was arranged properly. Little things like that made a huge difference in how comfortable I felt with him. 5. They know Santa Fe. They know where to get the great shots. They know the weather. They know it all. 6. Prices: We really shopped around, and there is no better value in SFNM than with InSight. None. 7. Just do it.
Michael Hammer

Babak at Insight Foto did a tremendous job. From engagement pictures to the reception he worked with incredible diligence and skill, producing pictures that my wife and I will treasure forever. He's a pleasure to deal with over the phone and email, and very responsive- important, since we were planning our Albuquerque wedding remotely. He's great with people, able to order a very large group around quickly and efficiently as well as make them smile. Really can't recommend him and his company enough.
Sabrinah McCaffery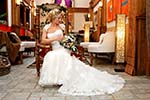 Highly, HIGHLY recommend! Very professional, Babek did MORE than a fabulous job photographing our wedding. I was amazed at how comfortable he made me feel while taking my photos (I don't consider myself photogenic). He quickly and efficiently took the portraits and family photos in the chapel which gave us more time to actually enjoy our wedding. He somehow managed to capture emotion while staying "behind the scenes" at the reception. Many of our guests commented on how they hardly noticed him. Most importantly, the pictures are BEAUTIFUL! 10 Stars for sure. Our only regrets? We should have had him stay until the VERY end of the reception, and we definitely should have had him create a wedding video.
Sara Ruiz
This is by far the best team in all of Santa Fe for your wedding photos! My husband and I could not have been any happier with the way our wedding pictures turned out. Highly recommended!
Tari Judd
Babak was incredibly talented at being right there to capture the spontaneous moments and knew iour venue at LaFonda well enough to pose us in the most beautiful settings. Our wedding pictures truly captured the entire day for us and I'm forever grateful to Babak and InSight Foto.....he comes HIGHLY recommended!!
Teynan Ayala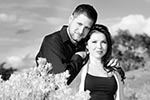 Look no further for your wedding photographer! Babak and Kathy at InSight Foto are the absolute best. My husband and I knew we were in the right hands from the very start. From our first meeting all the way up to our wedding day, Babak and Kathy were awesome to work with. Excellent and prompt attention to emails and questions. These two have an eye for beauty and do a superb job of capturing it in their photos. We could not be happier with our engagement and wedding photos. InSight Foto does not disappoint! Thanks to this team we have the most beautiful photos to treasure for a life time. -Teynan Thompson


Based in Santa Fe, InSight Foto is New Mexico's premier, award-winning, wedding, special events and corporate photography and videography studio. InSight Foto provides the highest professional photography standards with unique photojournalism and contemporary photography styles and services. As professional photographers we also provide a wide range of products and packages, as well as online proofing and print order access to all weddings and events.
THE PHOTOGRAPHS REPRESENTED IN THIS WEB SITE ARE PROTECTED. © COPYRIGHT INSIGHT FOTO INC. 2017